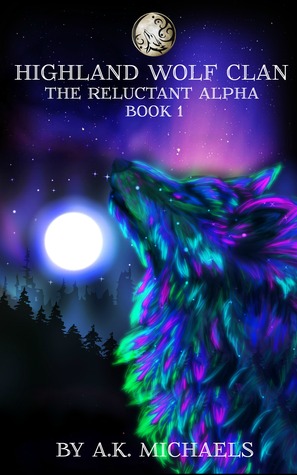 OMG A K MICHAELS HAS DONE IT AGAIN BETTER THAN EVER AND HOTTER THAN EVER!! A MUST READ THAT YOU NEED TO READ NOW! I was given an ARC of this terrific and WOLF-TASTIC READ EVER in exchange for an honest opinion. This is MisMousey's very honest opinion of HIGHLAND WOLF CLAN, BOOK 1, THE RELUCTANT ALPHA .
To say that Ms Michaels has a way with words is an understand statement. When bringing pen to paper she not has the ability to bring her characters to life right before your eyes. But she has the magic flowing on her fingers that creates all the scenes and characters perfectly. To the point the reader is able to visualize everything she writes. Ms Michaels is true genius when writing paranormal books.
The cover of this book is remarkable! It draws the reader to want to read this Shape Shifting book. And OMG! The blurb , man what can I say! After reading it – you are bitten with wolf bite of needing and wanting to read this NOW AND I DO MEAN YOU HAVE TO HAVE IT NOW!!
Here you have a man that was born to be an Alpha -to take over his pack when his father stepped down. But he has no desire, need or want to be. He has stayed away from his family all these years, as he was tried of fighting with his dear ole dad /leader of the pack. ( hmm theres a song there "Leader of the Pack) Any rate, now he has been summoned home by his mother and she wouldn't say why. Once he arrives, he finds out they have been having a lot of problems, Especially his uncle over at another pack now. Off he goes over there to help out. Little did any 0ne knoek what would happen when he arrived.
This amazing kick butt shape shifting -wolf biting – book by A K Michaels can be yours today to see what goes on this HIGHLAND WOLF CLAN BOOK 1 – THE RELUCTANT. I have to say the cover of book is a HOTTIE AN THE BLURB, WEEK THERE IS JUST NO WORDS TO DESCRIBE IT. I recommend this book to all readers. MisMouseys hereby gives this book a 50 out of 5 stars. NOW SHAPE SHIFT YOUR WAY OVER AN GET YOUR COPY TODAY!!!