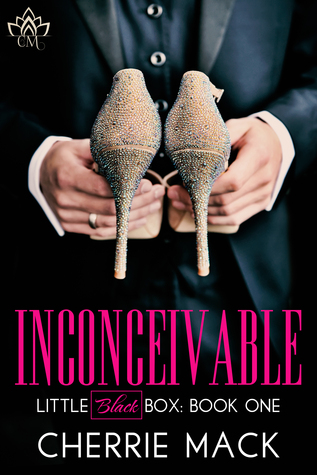 FINDING ONE'S TRUE LOVE THE HARD WAY
I received an ARC of this amazing short read from the author CHERRIE MACK, in exchange for honest opinion. This is Mismousey's very honest opinion of her book "INCONCEIVABLE".
Having never read any of Ms Mack's book's. I found this one very intriguing and mind blowing!! She brings such magic into her story when taking pen to paper. The characters -scenes are so lifelike and well detailed. You picture everything right before your eyes.
Inconceivable is about a young women by the name of Allison Adams who believes she has been left a fortune in her father's will. She goes to the attorney's office to find out what happening with the will. What she finds out is hurtful- not only does she find out she is not entitled to anything including the place where she lives. But she the new owner wants to take take ownership of now. And she has to move- having no money to afford to move -she offers to clean the place in exchange to live there. The new owner is the bio-daughter of her father- the man that raised her.
Alli was gifted with a black box from her father. Adrienne and her mother kept asking her if she had open it yet. She said no. One Day she finally did- she was left a message and an address, Alli went to the address and met this very strange man-whose name was Angelo -he claimed to be her fairy godfather. Angelo was to help her find true happiness.
What she thinks she wants – she is to hurt her sister. At least that's the way it start's off to be.
But the INCONCEIVABLE HAPPENS- and in order for you to find out exactly what that is. YOU HAVE TO READ THIS -THIS AMAZING-TERRIFIC-FANTASTIC-HOT BOOK. MAKE SURE TO ADD THIS TO YOUR GOODREADS READING LIST. As I recommend this book to everyone to read. It is a must read!! Mismousey gives it a 60 out of 5 stars.
NOW RUN AND GET YOUR COPY TODAY!!